Focused on the East Sea Dispute and Solution . Contact via email: trankinhnghi@gmail.com
Tuesday, September 25, 2012
Friday, September 14, 2012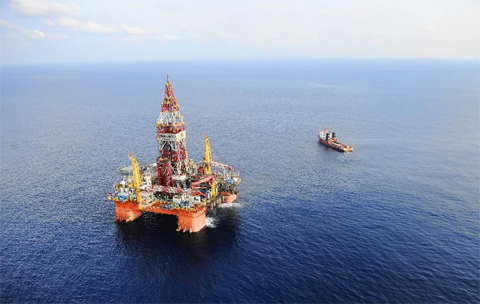 After implementing the closed-door policy for a long period of time, China has begun to compete with other countries and raise big claims in the East Sea.
In his recently-published book "Vietnam's hallmarks in the East Sea," Dr. Tran Cong Truc, former chief of the Border Committee, analyzed China's marine policy. Below is an extract from the book.
China's goal is to become a superpower of the same rank with the US by 2050, based on reform, open-door policy and peaceful rise. China believes that from now to 2020 is the best time for development. Therefore, China's foreign policy in the coming years is trying to solve inside and outside conflicts, avoid the use of extreme measures and confrontation with the US, develop friendly and cooperative relations with neighbors and maintain peaceful environment.
On the other hand, after a long period of time leading the world for economic growth rate, China has become a big country in the world.
In 2005, its gross domestic product (GDP) exceeded US$2.2 trillion to become the fourth largest economy in the world.
Because of robust economic development, China has become a hungry dragon for fuel and materials.
From 2003, China has become the second largest importer of oil in the world, after the US. China has been spreading to the world to seek and exploit natural resources and energy to satisfy its demand of development and ensure its energy security. The ocean is considered an important source.
To facilitate transportation of fuel and goods, China now attaches importance to the freedom of navigation and maritime commercial safety. With around 70 percent of its imported oil transported via the East Sea, China sees the East Sea as its life-line.
China has raised the biggest claims in the East Sea. After implementing the closed door policy for a long time, this country began eyeing and encroaching into the East Sea. The process has happened as below:
In 1909 it began to occupy Hoang Sa (Paracel) Archipelago.
In 1946 it drew the U-shaped line, which covers around 80 percent of the East Sea. However until May 2009 it made the line public. At the same time it occupied eastern islands in Hoang Sa Archipelago and Ba Binh Island in Truong Sa (Spratly) Archipelago.
In 1956, the People's Republic of China occupied the eastern part of Hoang Sa while Taiwan held Ba Binh Island in Truong Sa.
In 1958, the People's Republic of China officially raised its sovereignty claims over Hoang Sa and Truong Sa.
In 1974, this country occupied the western part of Hoang Sa. It continued to occupy some islands in Truong Sa in 1988 and Vanh Khan Island of Truong Sa in 1995.
China claims sovereignty over the whole Hoang Sa Archipelago. It considers Hoang Sa and the adjacent waters as its natural territory. It also claims sovereignty over the entire Truong Sa Archipelago and its adjacent waters, but admits to have disputes.
From the 90s, along with China's fast economic development and the improvement of China's position in the international arena, China began building and implementing a new marine policy. Under this policy, China has strengthened its control and exploitation of the sea to serve its goal of becoming a maritime superpower. China believes that it cannot become a real superpower if it is not a maritime superpower.
China's policy is exploring the far waters firstly and then to the near waters, the disputed waters firstly and then its waters; diplomatic methods go firstly, followed by naval force; sowing division among members of the Association of Southeast Asian Nations (ASEAN); taking advantage of and restricting the US and Japan.
In terms of cooperation mode, China focuses on bilateral cooperation and multilateral cooperation when China holds the key role. Its main direction in the sea is the East Sea, where natural resources are abundant, big countries do not have military bases and related small countries are weak at military ability.
By Tran Cong Truc
Source: East Sea (South China Sea) Studies
Monday, September 3, 2012
(The Philippine Star) Updated September 03, 2012 12:00 AM
Comments (7)
BEIJING – China's premier has thanked Cambodia for its support in a Southeast Asian regional bloc amid tensions between Beijing and several nations over territorial disputes in the
South
China
Sea.
The official Xinhua news agency said Wen Jiabao told Cambodian Prime Minister Hun Sen in a meeting yesterday that China will promote closer cooperation with Cambodia.
In mid-July, foreign ministers of the 10-nation Association of Southeast Asian Nations (ASEAN) failed to issue a joint statement after their annual meeting in Phnom Penh when host Cambodia rejected a proposal by the Philippines and Vietnam to mention their territorial disputes with China in the document.
Xinhua said Wen thanked Cambodia for its "important role in maintaining the overall situation of friendly relations between China and the ASEAN."
Last month, Cambodia's ambassador to the Philippines was recalled, after the envoy accused his host country of playing "dirty politics" in its maritime row with China.
Foreign Secretary Albert del Rosario told reporters that Ambassador Hos Sereythonh had been recalled, but he did not give reasons.
The recall came after Del Rosario summoned the
ambassador to explain comments he made in a letter to The STAR blaming the Philippines and Vietnam for a rift at a regional conference in Cambodia.
Foreign affairs department spokesman Raul Hernandez said it was Cambodia's prerogative to recall its envoy.
Overlapping claims
China has overlapping claims with four ASEAN members in the South China Sea.
At a regular ASEAN meeting hosted by Cambodia last month, the 10-nation bloc for the first time in its 45-year history failed to issue a joint statement because of tensions over the maritime disputes.
Hos accused the Philippines and Vietnam of attempting to "sabotage and hijack the joint communiqué" during the meeting.
In his letter, Hos said he was responding to an article written by an official of the Philippine Department of Foreign Affairs on what happened at the ASEAN meeting.
The Philippines has accused Cambodia, a close ally of China, of blocking any mention of the South China Sea spat.
China lays claim to a U-shaped swathe of the South China Sea, overlapping areas claimed by the Philippines, Vietnam, Taiwan, Brunei and
Malaysia
.
These are thought to have significant oil and gas reserves below parts of the South China Sea subject to ownership disputes.
In recent years, tensions over the issue have increased amid growing assertiveness from China over its maritime claims.
Ties between China and the Philippines are already strained in the wake of a recent standoff over another disputed area, Panatag (Scarborough) Shoal. –
AP